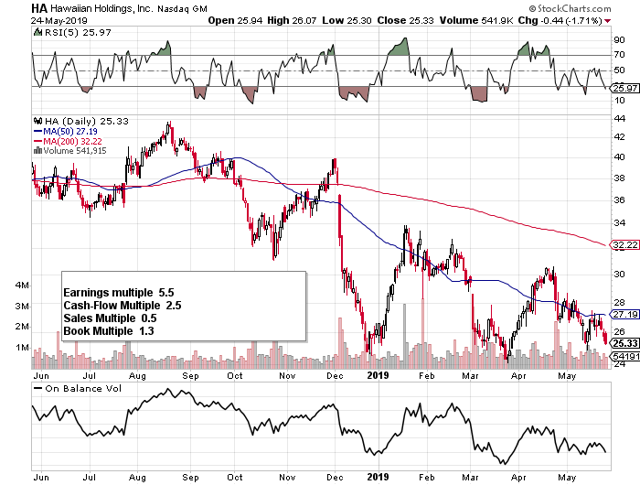 Hawaiian Airlines doesn't announce its next quarterly numbers until the end of July so we may not have a near-term catalyst to produce a storming rally here. As we can see from the chart above we actually projected a double bottom reversal pattern back at the end of March. We got long the stock soon thereafter. However this reversal pattern did not come to pass and at this stage we seem to be looking at either a triple bottom or maybe an inverse head-and-shoulders pattern.
$24.13 is the low point which shorter-term Traders are investors should be focusing on. This number was the low in March and if a bullish reversal pattern is playing out at present, then this number cannot be breached. Therefore from shorter-term point of view we believe that the risk-reward increases the closer you can get to that support point.
We state this because even with Hawaiians very attractive valuation at present, there is also a risk that a descending triangle could be playing out. These patterns are usually bearish patterns but as we know, in the financial markets everything is possible. This means that even though Hawaiian is very cheap compared to its historic valuation, shares could still get cheaper here before bottoming.
Longer-term investor should have no problem in holding Hawaiian long-term. When you include the airlines dividend and balance sheet along with the really low valuation metrics we have inserted in the chart above, then it stands to reason that the downside should be pretty small here. Remember the stock got a bit of a shock when Southwest announced that they would be entering the Hawaiian market. However when you study the numbers its difficult to see where Hawaiian can get significantly hurt by Southwest. Suffice it to say we will be remaining long our present position.