As I write the S&P500 (NYSE:SPX) after about forty minutes into the trading session on the eleventh of July is trading at 2,425 which means it is down just a bare 2 handles on the session. As my subscribers will know, I have been looking for a correction in equities for the past couple of weeks now. In fact probably since the high that we printed on the nineteenth of June. I was expected a steeper decline than we have had up to now. As the chart illustrates below, the last two intermediate cycles before this one both in July and November of last year retraced all the way back to the S&P's two hundred day moving average. Now as the chart shows, we just haven't been able to undergo any type of correction since basically the elections. I've plotted out some Fibonnacci retracement levels just to give you an idea of how weak the decline was into the April lows. Now with the market rallying up over the fast past few sessions its becoming more than probable that last intermediate low actually took place in April at the 2,328 level.
[soundcloud url="https://api.soundcloud.com/tracks/332713309″ params="color=ff5500&auto_play=false&hide_related=false&show_comments=true&show_user=true&show_reposts=false" width="100%" height="166″ iframe="true" /]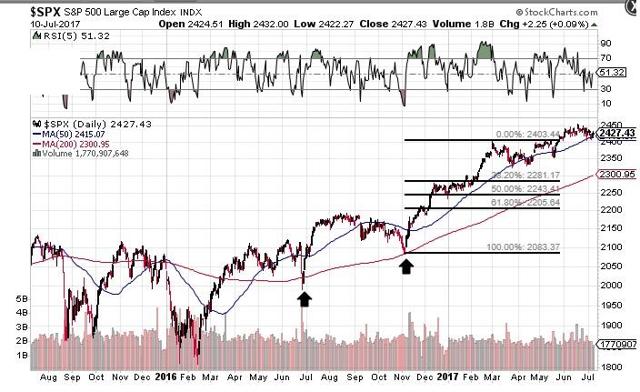 Even though we didn't get the correction down to the two hundred day moving average. as the sentiment chart illustrates below sentiment did actually retrace to levels even lower than we saw in November of last year. Therefore we still could be looking at an intermediate low here despite not producing a convincing failed daily cycle within the intermediate cycle. This would mean we are now coming out of a daily low within the context of this bigger intermediate cycle (which started in April). So I think the best way to play this market going forward is to hold all positions maybe with a trailing stop in some sectors which are volatile. To reduce individual company risk, one could concentrate on vehicles such as (NASDAQ:QQQ), (NYSE:IBB), & (NYSE:SPY) because there has been some weakness in certain sectors such as retail and the like. I will be watching the upcoming commitment of traders reports where I will need to see bullish numbers in terms of positive net contracts as this will mean more bulls are entering the equation. Investors and traders who are short could be in for a lot of pain here as the covering of these shorts will only drive the market higher in the near term especially if we break out to new highs shortly (over 2,453 on the S&P500).